Living Mindfulness in These Uncertain Times
with Anne Twohig
This Programme consists of 6 sessions of 1.5 hours each and is designed to support participants to cultivate mindfulness skills to use in practical ways in daily life. It draws deeply from the world renowned MBSR Programme by offering key features and practices that are the bedrock of MBSR, and is tailored for anyone who has an interest in enhancing wellbeing, in strengthening their relationship with self-care and in learning new tools for taking care of what poet Mary Oliver calls 'this one wild and precious life'.
This Programme is suitable for beginners as well as those who have an established practice and may like to deepen it.  All you need to bring to this Living Mindfulness experience is your intention to be open and present to the six sessions and commitment to the daily practices and exercises of up to 30 minutes a day.
Course Participant Feedback…
The Programme has been helpful in understanding what stress is and coping with it.  I have learned to be kind to myself and living each day as it comes.  Thank you for an amazing experience.
I feel an increased calmness, less reactivity and an understanding of some of my negative behaviours.  I feel I now have an ability to comeback to neutral more quickly.
I learnt that it is possible to integrate mindfulness into my daily life by just taking that pause.
The programmes has helped me enormously in learning about managing stress.  I don't jump into situations like I did before.
The course reopened my mind to the value of understanding 'Mindfulness' in everyday life.  I felt that I could always be in control of my thoughts and my actions.
I have learned about tools to allow me to apply mindfulness into my daily life.  It is a flexible approach that can be tailored from person to person and even from day to day. It is an excellent introduction to mindfulness for those not familiar with it, but also beneficial to those with prior experience.
To register your interest
Please fill out this form and submit to Centre for Mindfulness Ireland.
Comments or questions are welcome.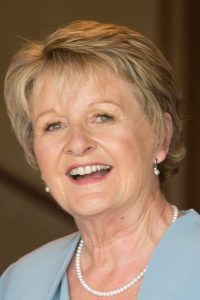 Anne Twohig
Anne is from Dublin and now lives in the beautiful seaside town of Greystones, Co. Wicklow, where she enjoys long walks by the sea and hiking in the hills. She is a certified MBSR teacher and teacher trainer and the founder of the Centre for Mindfulness Ireland, which she established in 2007.
Anne trained with the Center for Mindfulness (CFM), University of Massachusetts Medical School (UMass), and was a member of their professional teaching faculty from 2014 to 2018. Anne is now an adjunct faculty member with UCSD.
"Your vision will become clear only when you look into your heart.
Who looks outside, dreams;
Who looks inside, awakens"
– Carl Jung