Welcome to Centre for Mindfulness Ireland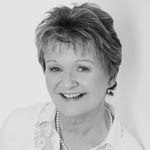 The Centre for Mindfulness Ireland is newly formed since December 2014 and has grown out of Ananda Programmes which has been offering Mindfulness courses in Ireland for the past ten years.
         Anne Twohig
Centre for Mindfulness Ireland offers:
Mindfulness Based Stress Reduction (MBSR) Programmes and Teacher Training
Mindfulness Day Courses for the General Public
Mindfulness Programmes for Health Care Professionals
Mindfulness Programmes for Business Leadership
Mindfulness in Education
Mentoring and Supervision of MBSR Teachers in Ireland and Europe
Centre for Mindfulness Ireland has been involved in the growth and expansion of Mindfulness in Ireland over the past 10 years and is committed to upholding the high standards set and lived by Jon Kabat-Zinn, Saki Santorelli, Florence Meleo Meyer and all the wonderful teachers and staff at the Center for Mindfulness, University of Massachusetts (CFM).
Anne Twohig is a Certified MBSR Teacher and a Faculty Member of the Oasis Institute, the teaching school of CFM. As part of CFM's global community, Anne's teaching has brought her to the US where she has worked alongside Saki and Florence in Teacher Trainings, as well as in Ireland. Anne is CFM's host organiser and co-teacher for their teacher trainings in Ireland.
Centre for Mindfulness Ireland's overarching goal is to maintain high standards in the teaching of MBSR and the mentoring of MBSR teachers in Ireland and Europe to assist the safe passage of the MBSR lineage into the future. 

Mindfulness for Children
Mindfulness Matters captures children's perspective on Still Space, Acts of Kindness (AOK), Attitude of Gratitude and more in Fahy National School, Westport, Co Mayo, Ireland. Still Space is one of a range of children's CDs with novel and creative mindfulness and visualisation practices. Thanks to Derval and Ann for sharing this with us!
Newsletter Sign-Up
To subscribe to our Newsletter and stay informed
about our Programmes and News, please fill in
your details below and forward to us.

Upcoming Programmes for 2015

Mindfulness at Shelton Abbey Open Prison
The first 8 week MBSR Programme being held at Shelton Abbey.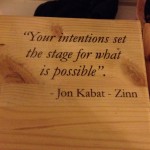 Centre for Mindfulness Ireland is facilitating the first 8 week MBSR Programme at Shelton Abbey Open Prison for 24 participants.
There has been great interest and enthusiasm to hold this MBSR Programme at Shelton Abbey and this was signified by the 26 meditation benches that were made on site by one of the participants and ready for the first of the 8 weekly classes. There was one made for each participant and the two MBSR Facilitators, Anne Twohig and John Peelo.
On the seat of each meditation bench is a very apt quote by Jon Kabat-Zinn – 'Your intentions set the stage for what is possible'.

Mindfulness Wisdom
Dr. Jon Kabat-Zinn speaks about the latest research on Mindfulness in "Life is Right Now". How can we be more present in our lives? What does it mean in a larger context? It is time to awaken.

For Today...
"Everything can be taken from a man but one thing: the last of the human freedoms – to choose one's attitude in any given set of circumstances, to choose one's own way."  – Viktor Frankl, Survivor,  Auschwitz Concentration Camp.